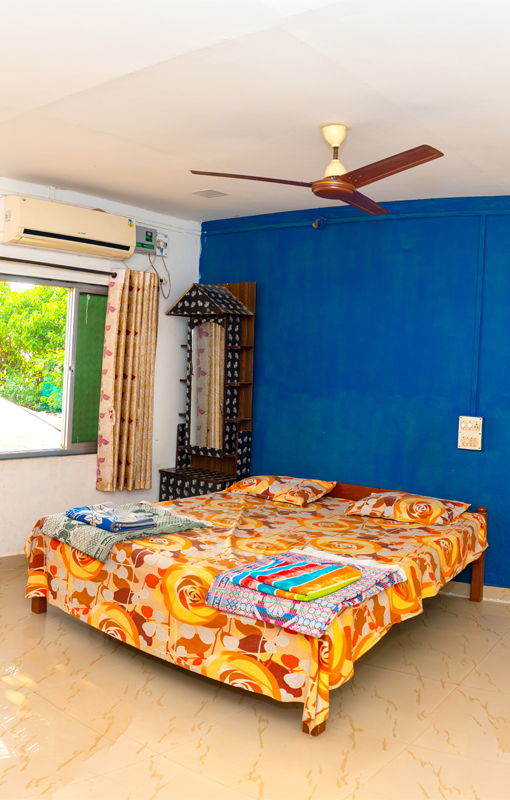 enjoy a memorable
days with us
Devbagh is popularly known for water sports, scuba diving, & the beautiful wide sea shore. This area is the most famous area for resorts as well as luxury stays in Malvan. Tourists visit Devbagh on vacations to do enjoyment. We, Shree Swami Samarth Beach resort started our business in the year 2008. In the resort industry of Devbagh, our resort is one of the oldest & very well-known resorts in Devbagh Tarkarli. An oasis of warmth & luxury environs our resort in Devbagh is amongst the best holiday resort in Devbagh Malvan. We welcome you with elegance. The resort property is very huge, there are 4 cottages with spread over a lush verdant garden & a 1.5-acre plot area for Parking. The 16 rooms are well appointed & combined with good furniture & convenient amenities. The resort is exactly located in front of Devbagh sea shore. Guests can access high-speed Wi-Fi. Scuba Diving & water sports in Devbagh are the main attractions. We suggest booking Durga water sports which is owned by us. The resort has a restaurant that serves great authentic Malvani cuisine. Shree Swami Samarth Beach resort in Devbagh offers a range of wellness facilities like towels, toiletries, AC, TV, beachfront view, & many more. Whether you are looking for leisure hotels in Malvan, booking a holiday with your family or your friends, Shree Swami Samarth Beach Resort deals & offers the best value, meet your every need & create memories that will last a life time.
view details
what our client says
We had been here for the 3rd time. Food is nice homely cooked and service is best. Rooms are simple and cozy. Beach is just in front of rooms.. varieties in food should be increased. Owners are very kind and courteous like family members.

Pallavi Kulkarni
The Location was Nice but the Owner was extra Arrogant. Although booking 1 month prior at the time of check in we were told that room alloted would be in different buildings even though there were rooms available. The Food Tastes was Average but the time to get your order was alot. The Rooms were not cleaned properly Mirror was blur, Toilet Lock was not having Handle, Flush was not working properly, Wash Sink was got apart form the wall it was dangerous I can fall on anyones leg, Toilet Window was having Used Shampoo Sachet and Tobacco packets as the wood was having fungus on it, The rooms were not having warm water, The bed sheet and pillows stinks. They asked us to follow covid Norms and the food was not reheated even after we were ready to pay the price But not a single chef in their restaurant was wearing mask while preparing food. Was the worst experience of our lives. Adding all the proofs below. Please stay away from such fraud service providers.

Vaibhav Salunke
This is really calm place to stay with friends & family. Upfront beach is advance point. They serve very delicious food, Please do the Advance-order for your food. Car parking is available. This is 2star hotel keep in mind. Owner is very supportive person, please check with him for water sports.

Rekha Kumari